Business Disputes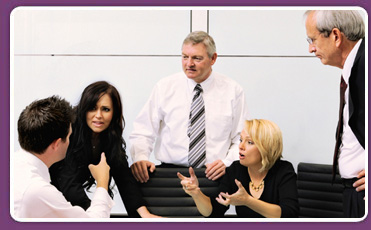 Disputes are always harmful for the health of any business. If not resolved in a timely manner, they can jeopardize growth prospects of warring parties and also affect their overall performance. And if allowed to drag on for months or years, disputes might even gradually weaken the foundation of the business. As an award-winning private detective agency, Sleuths India not only understands the damages that such disputes can cause but also has a great expertise at resolving them.

Whether the dispute is over financial issues or related to handling of the operations, whether it's between two partners or between employers and employees, we're always ready to help and leverage our over two-decade worth of experience to add value to our clients. Big companies and corporate houses have sought our help on many occasions in cases related to partnership disputes, shareholder disputes, employee disputes, customer dispute, vendor/supplier dispute, buyers-seller dispute, distributor dispute, creditor/debtor dispute, and so on.

Since we have a robust pan-India network and possess the largest team of investigators in the industry, companies find it easy to trust us for their dispute cases and they know we're proven in the industry. We can provide information, intelligence and evidence through in-depth investigation to help either resolve the dispute, or achieve a compromise or let our clients have an edge over the party they're in dispute with.

When to Contact Sleuths India for Business Disputes?
We're a premier detective agency with corporate investigation as one of our strong points. Over the years, we have been a great help for clients from across industries for their business dispute cases. More importantly, we use the latest and most sophisticated technologies, equipment and tools to handle complex cases from the industry. By hiring us, you can always be on the right side of disputes and realize the true potential of your business.

You can hire our services in various business dispute cases, including, where -

Disputes arising out of faulty interpretations of shareholder rights in newly formed joint ventures
Disputes between partners over finances, profit-sharing, decision making, ownership rights etc
Disputes related to cancellation of contracts
Disputes due to contractual interpretations
Disputes emanating from breach of obligations
Disputes in the wake of inadequate payment received for services delivered
Disputes with vendors over delivery of inferior goods than originally contracted
Disputes between businesses and consumers over quality, delivery, or service aspect
Disputes between businesses and creditors /debtors
Disputes with buyers or sellers
Disputes over controlling patterns of the business operations
Disputes arising directly or indirectly with any third party
Disputes with employees over remuneration issues, company policies, contract termination issues etc.
Scientific Investigation from Sleuths India
Sleuths India is the President Award winning detective agency with a long list of premier clients from across industry verticals for business dispute cases. We always deliver amazing results in business dispute cases through a solid network with high-tech offices in Delhi, Mumbai, Pune, Kolkata, Bangalore, Chandigarh and Lucknow. Due to our reputation, corporate houses seek our services for business dispute cases where they expect us to dig customized vital information and intelligence.

As our team is guided by former officers from the Army, Police, Intelligence Bureau, Research & Analysis Wing (RAW), it's always easy for us to do in-depth corporate investigation for any type of business from across industry verticals. We also take pride in its membership to APDI, WAD, ASSOCHAM, PHD Chambers of Commerce, CII (Confederation of Indian industry), NASSCOM, DMA (Delhi Management Association).

So, if you want to benefit in business disputes cases, hire Sleuths India and get the best of results, always!